Want to sign a PDF online? It's as simple as uploading your document to a free electronic signature program, signing it, and finally downloading it again.
Sign PDF Online
It's the Digital Age and more and more paperwork, office work, and business communication happen online. As a result, several powerful online document signing tools have sprung up. Many of the best ones are even free.
Part 1: How to Sign a PDF Online?
With the right tool, you can sign your PDF in seconds. We'll explain the process below with the help of a popular, free e-signing utility – CocoSign.
CocoSign is a well-known, secure e-signature solution. It's the tool of choice for businesses worldwide and has been featured by several prominent publications online, including LifeWire, TechCrunch, and BuzzFeed.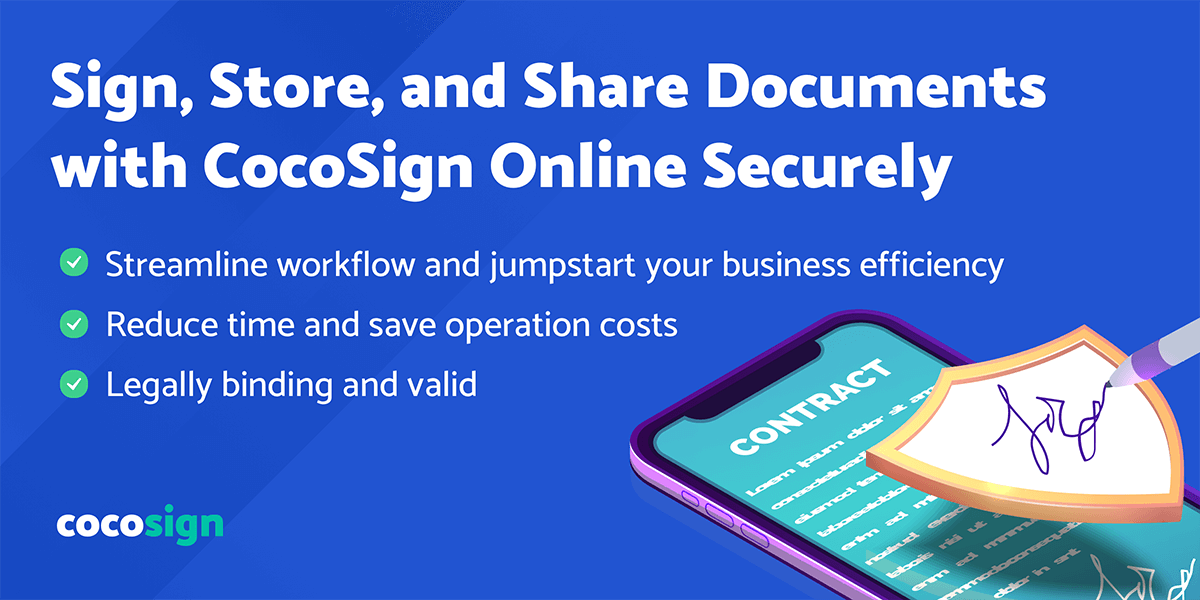 CocoSign – Sign PDFs Online in a Hassle-Free Way
With CocoSign, you and any of your colleagues or employees can sign any PDF document in seconds. It works from any smartphone or PC browser. 
Here are the 3 quick steps to follow:  
Upload the document 
You start by navigating to the website and creating a free account or logging in with your Google details. Then you upload the document when prompted. 
Sign 
An editing window will pop up. This is where you can sign the document. You have some options here: 
Draw your signature using your mouse or laptop tracking pad. 

Sign on a piece of paper physically, take a photo, and then upload the photo to the server. 

Type in a name and use the signature styling tool. 
Download 
Wait for a few seconds until the server processes the document. That's all! You can download the document to your device.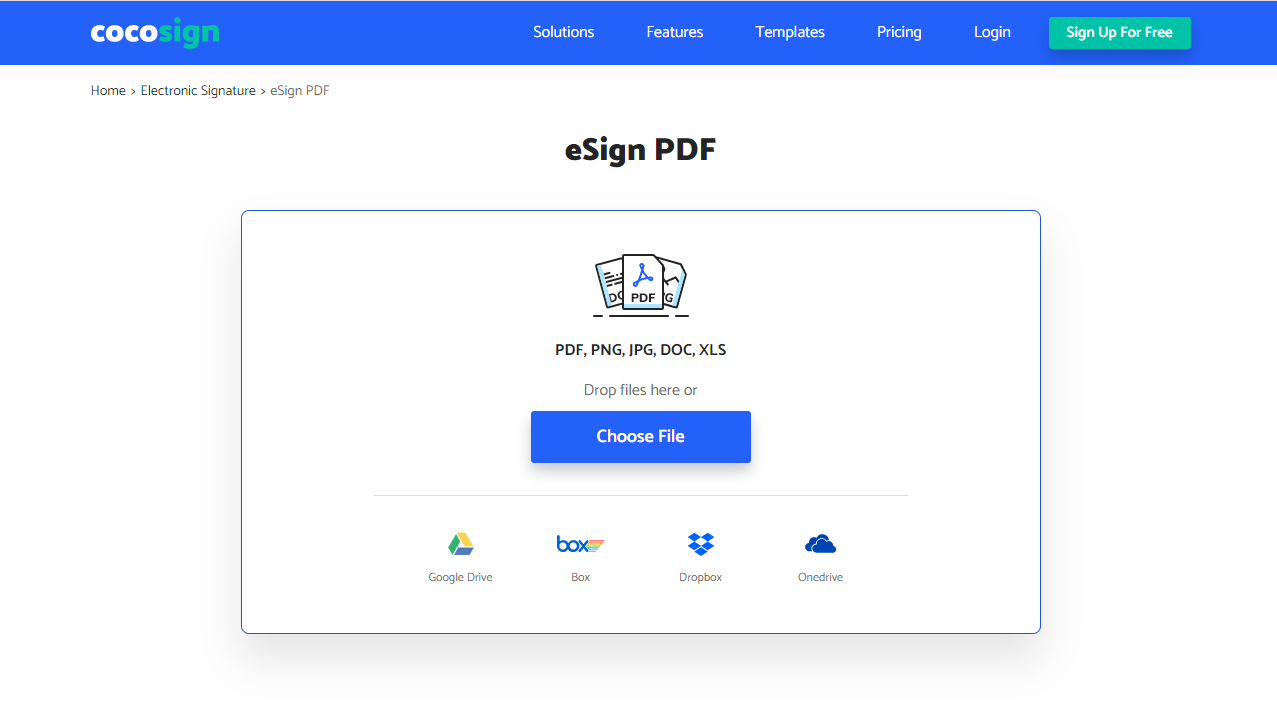 Signing the PDF is free. If you wish to avail advanced features – like signing the document in sequence or having multiple people sign it at once – then you will need to purchase a monthly subscription. 
Part 2: CocoSign- An Excellent Online Signature Generator You Can Trust
Is CocoSign safe to use for sensitive business documents? Absolutely! This tool has been vetted by businesses and individuals worldwide. Further, it affords several advantages and legal benefits to your business.
2.1 Sign PDF Online, Anywhere, Anytime, Any Device 
CocoSign is a platform-independent service. As long as your device has a web browser, you will be able to use CocoSign. You can sign when it best suits you, and then send the document to someone else to sign seamlessly. 
Besides the sheer freedom afforded by the online service, it also brings a lot else to the table:
a. Resource savings
Signing paper documents is expensive and time-consuming. You have to pay for various overheads like printing costs, printer maintenance, document forwarding and faxing expenses, storage fees, among others. Cocosign provides an online electronic signature service, you can sign, forward, and store your PDF for free.
b. Faster turnarounds
Having the other party sign the PDF with you takes very little time. You can send it to them, have them sign it, and send it back in minutes. With paper documents, the whole process would take days, if not weeks.
c. Legal validation and audit trail protection
Signing a PDF with CocoSign is legally-valid and accepted in 180+ countries. Further, every document you sign will have an audit trail. If you ever have to authenticate the document signature in court, you can use this information.
d. Encryption protection with digital signatures
CocoSign supports digital signatures to prevent misuse of your signature or tampering with the document. The signature is embedded into the document using high-level encryption. This protects the document and makes it easy to validate. 
e. Customization
The service offers several customization options. For example, you can use the template feature to save a copy of a frequently-used document, like a contract, for quick reuse. Further, you can edit, store, and customize your signature.
f. Sequential signatures and other enterprise-level features
Occasionally, you will have documents that need to be signed in a certain order. CocoSign offers a sequential signature service for just these occasions. It also comes with other features for businesses like custom branding, payment collection, bulk sending, and more.
g. Offline support
You may not always have an internet connection and still need a PDF sign. In such cases, you can use CocoSign's offline-signing feature. You can edit your documents and sign them offline through the Drafts section.  
2.2 CocoSign Covers All the Legal Bases 
CocoSign complies with worldwide data sharing and safety regulations. It's also a secure and private platform. 
a. It's compliant
You can use CocoSign for personal and business purposes all over the world. Electronic signatures enjoy a legal status in 180+ countries. Further, the service complies with American and European data sharing and privacy laws such as the CFR, HIPAA, eIDAS, and the GDPR. 
b. It's secure
The app is secure and suitable for confidential business documents. It employs 256-bit SSL and has a PCI DSS certification. Any communication you make to the server will be secure. You can optionally store documents on the cloud in a secure manner.
c. It's private
CocoSign is committed to privacy. Any information you upload to the website is accessible only to you and no one else. Your information is kept logically separated from other users. Your account information is also viewable only by you.  
Part 3: What Are The Benefits of Signing a PDF with Electronic Signatures?
Signing a PDF the electronic way offers several benefits: 
You don't need to download the PDF, sign it, and upload it again. 

It's fast and saves you time and money. 

You won't have to travel out of your way to sign a contract. 

You can pass the document along to other signers quickly. 

It's less expensive to store and maintain electronic records than paper ones. 
Part 4: Who May Need to Use Electronic Signatures to Sign a PDF?   
Business owners, employees, and government workers are some examples of people who often sign PDFs online. 
Here are some other scenarios where PDFs may need to be signed:  
Legal: Affidavits, legal forms, authorization letters, and contracts may be signed electronically.  

Client forms: Businesses often use PDFs to receive signed agreements from clients and customers. 

HR: Recruiters and HR managers will often send out signed PDF documents that employees have to fill out and sign. 
Part 5: 5 FAQs
How can I sign a PDF online for free?
You can use a PDF online free tool such as CocoSign. You just upload the document, sign it, and then download it again. If you wish to use advanced PDF signer tools, you may need to purchase a Premium plan.
Is digital signature free?
It depends on the s-signature platform. CocoSign provides digital signatures for free on up to 3 documents per month. You can store and edit one template, and also use the Reminders & Notifications feature. These free signature features are limited to one sender per account.
How do I sign a PDF on my phone?
You can use your phone web browser to sign a PDF online or download a suitable app to your device. You can use the touchscreen interface to draw a signature. CocoSign is mobile-friendly and offers an optimized experience on mobile phones and tablets.
How do I fill out a PDF electronically?
You can fill out a PDF electronically by uploading it to a PDF electronic signature service like CocoSign. The service allows you to sign documents as well as insert basic text. If you wish for more specialized PDF editing tools, you will need to download a dedicated editing app (like Adobe).
How do I sign a PDF without Adobe?
You can use any PDF signature maker software. You don't need Adobe or any other PDF viewing and editing tool as long as you have access to the internet. Also, most modern web browsers like Google Chrome have PDF viewers built-in.
Conclusion 
Signing PDFs online is a simple, straightforward process. You won't need any training – just an internet-enabled device. CocoSign makes the whole process seamless and also ensures your documents remain secure and private as you sign them.