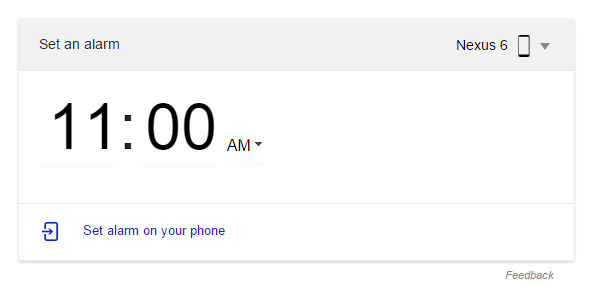 Last week we told you about how you can send Google Maps directions to your phone from Google Search. Just type "send directions" into Google and a new card will allow you to choose a destination and then send it to your device. This functionality is similar to an old app called Chrome to Phone. It's a great idea, and it looks like Google is adding even more features.
In addition to sending directions you can also send notes, set alarms, and add reminders. All of these commands work the same way as the directions. Simply type "note to self, set and alarm," and "set a reminder." A card will show up with the appropriate text boxes and options. Fill out the card and click "send to phone."
In order to have your phone show up as a recipient you need to have a few things. Make sure you have the most recent Google app, Now cards enabled, web & app activity enabled, Google Now notifications turned on, and "high accuracy mode" location reporting.
[via Google]