It's only Tuesday, but Google's already been rather busy seeing as the company announced a major new partnership with T-Mobile, and now we're seeing more than 100 updates coming to Google Maps. Via The Keyword, Google has detailed a slew of new changes and features that have already started rolling out to Google Maps users across the globe.
Google Maps Live View indoors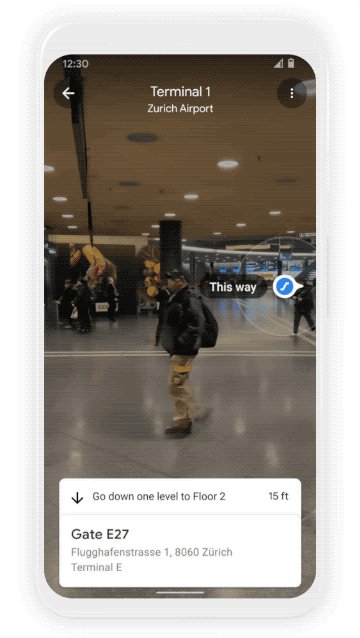 Many of these features have been designed with AI and augmented reality in mind, making use of Google's Live View much more useful for those who need directions even if you're inside. The first big change brings the Live View directions to select airports, transit stations, and malls. You'll be able to select a specific store, restaurant, or airport terminal, pull up Google Maps Live View, point your phone's camera forward, and just follow the steps. Previously, this was only available if you were looking to make use of AR directions outside, whether it's walking the streets of New York City, or just trying to find that new diner in your neighborhood.
This feature specifically is not rolling out to everyone just yet, as the indoor Live View is only available in the following cities:
Chicago
Long Island
Los Angeles
Newark
San Francisco
San Jose
Seattle
Google states that it will begin rolling out the Live View directions in Tokyo and Zurich, but there are also plans to bring the feature to more and more cities (hopefully) in the near future.
Air Quality in some areas is much better now than it has been in years, and that's largely due to the fact that fewer people are commuting to work, and more people are staying home. Nevertheless, with the strides being made to get the world back to some type of normalcy, concerns about air quality will be quickly at the forefront for many. That's why Google is taking the time to improve Maps so you can find out more information about the weather and air quality in your area.
There's an all-new Air Quality Layer that will provide information regarding just how healthy (or unhealthy) the air around you is. But not only will you be able to see what the air quality is like, but Google Maps will also give you an hourly weather forecast, using data from The Weather Company. This will make it a bit easier to plan the day out without needing to switch back and forth between different apps. this new weather layer will eventually be available to everyone around the world, while the Air Quality Layer is launching in Australia, India, and the U.S. before rolling out to more countries.
Reducing your CO2 emissions
As we've already stated, the air quality situation is some areas has greatly improved, but Google's trying to help you reduce your carbon footprint even further. Another big update coming to Google Maps is making it easier to select "eco-friendly" routes when trying to find directions. This doesn't necessarily mean that you'll just be picking between driving or walking, but some routes are actually more fuel-efficient compared to others, and Maps will point those out. In some cases, those routes maybe a few minutes longer, but you'll end up feeling a little bit better about helping the environment when you've reached your destination.
Those who do switch between different traveling methods (driving, walking, biking, etc.) will have an easier time switching between the different preferred modes. Google's putting its AI prowess to work here, determining what your most used and preferred travel methods are, then displaying how long it will take to reach your destination based on how you could get there.
Curbside grocery pickup

The final major addition coming to Maps is for those who prefer to take advantage of curbside pickup for their groceries and other products. This is a multi-part rollout, leading off with new Business Profiles coming in both Google Maps and Search. Searching for a specific grocery store will provide "Order pickup & delivery" options, making it easy to view whether you can place an order directly with the grocery store, or if you want Instacart to do the shopping for you and drop it off at your home.
Google's also partnering with Fred Meyer on a pilot program in Portland to make it easier and more seamless to pick up your groceries. Place the order within the store's app, and the pickup appointment will be added to Google Maps. From there, a notification will be sent to you informing you of when you should leave your home in order to make it to the grocery store when the pickup will be ready. Then, your arrival time will be shared with the store location, and is constantly updated based on where you are and how much traffic you may be encountering. When you finally arrive, Maps will allow you put in the parking spot number, relaying that information to the grocery store, so they know where you parked.