Creating a digital signature is now easier than ever. There are dozens of software and online websites offering digital signing services. But how do you pick the best? Here is a list of the top 10 signature generators you can use to sign documents digitally.
10 Best Signature Generator Apps
1. CocoSign
If you haven't heard of CocoSign yet, then you should learn more about it. This is because it's arguably the best cloud-based online signature generator. It comes with features suitable for individuals, offices, enterprises, and organizations alike. But of all the features available, it's the flexibility of CocoSign that stands out.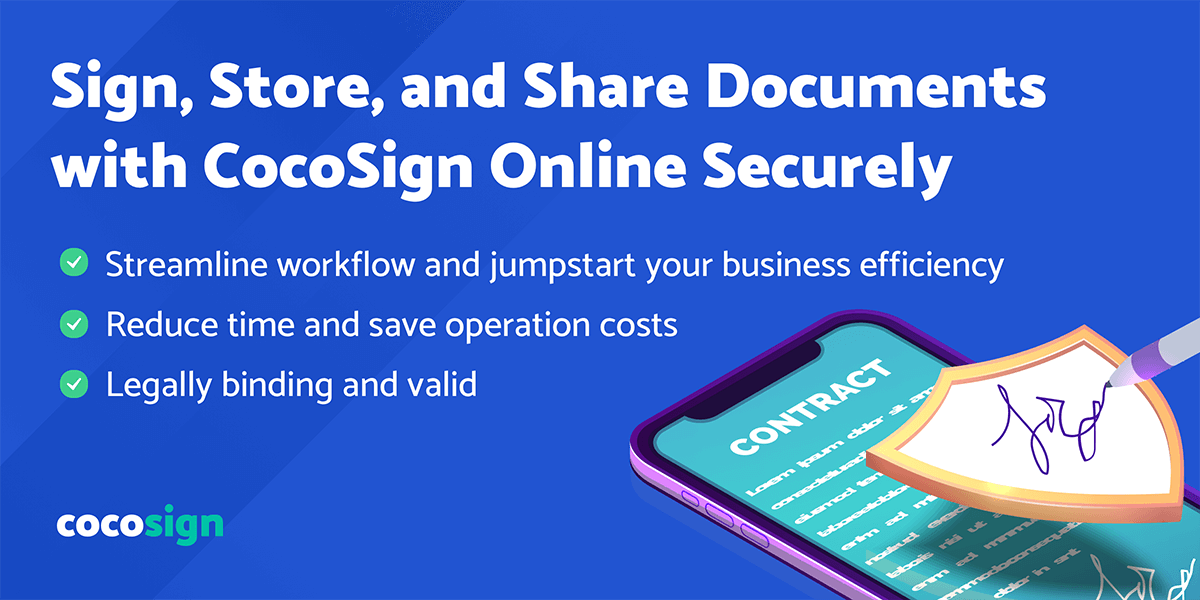 With CocoSign, you can create digital signatures in two ways. First is by drawing it with a mouse or touchpad. If you're using a touch-enabled device, you can use the touchscreen. You can draw the signature using the touchpad, and it'll record your movement. Once you're satisfied, you can save the signature for later use.
Another way you can get your digital signature is by using its signature creator. As the name suggests, the online software will generate the signature for you. You're just required to type in your full name or the name you want your sign to display. After that, the signature generator will create a variety of signatures for you.
These signatures vary by font, size, length, and legibility. You can choose any of the varieties or the one that matches your handwritten sign. Once selected, you can start using it as your default digital signature.
1.1 What This Signature Maker Can Provide You
Cloud Storage
You can store your signature and signed documents on CocoSign's cloud. You can always revert to it later or allow your team members to have remote access. This feature enables collaboration among teammates, and you can skip the process of uploading and downloading files across multiple apps.
Control The Sequence
At times, you might be asked to sign the documents in sequence. CocoSign enables you to create a sequence with which you or the signee should sign the documents. But you can always sign the documents in parallel all at a time.
Document Tracking
You can track the documents which are to be signed by multiple people. CocoSign will create a progress bar and notify you whenever there's an action from the other side. You can track who has signed the document at what time and who is yet to. You can then follow up directly within the system.
Audit Trail
With CocoSign, you can dig into the details of each transaction that took place. For example, you can view the name, email address, and IP address of the person who signed the document. Thus, CocoSign holds everyone accountable if there are dependencies found in the sign sequence.
Wet-ink Like Signatures
CocoSign e-sign solutions do not look like digital signatures, but they look extremely authentic and real, all thanks to the wet-ink signature technology. This way, all your documents look authentic and genuine.
1.2 How to Create a Signature with CocoSign?
CocoSign makes it easy for you to sign documents on the go, all thanks to its simple process:
All you need to do is go to

Cocosign's signature generator page

and then drag and drop or upload the document for signing.

You can then insert your signature and sign documents digitally. On the other hand, if you require someone to sign the document, you can invite others to sign the document as well.

Once done, recipients will receive the signed documents. You can choose to keep the signed document on CocoSign cloud storage or download it on your machine.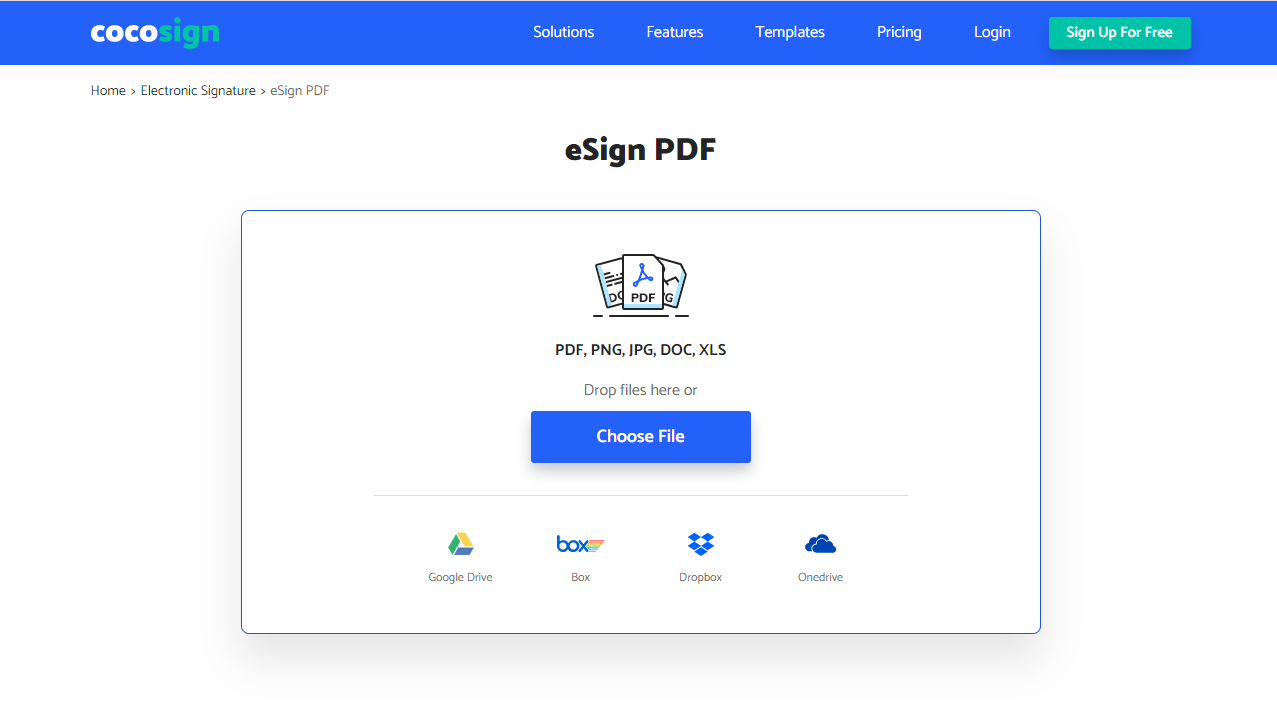 1.3 Why CocoSign is the Most Professional e-Signature Generator?
You will agree with us that there are a lot of e-signature generators in the market. However, what makes CocoSign stand out is the extreme level of professionalism that it offers.
Compliance
CocoSign is best for corporate use. This is because of its compliance, security, and flexible pricing. CocoSign complies with regulators like eIDAS and ESIGN. Thus, the signatures and the documents that carry the signature are recognized in legal matters.
Security
CocoSign ensures that its customers are secure. For this, the entire website and the servers are protected by a 128-bit SSL layer of security. On top of that, the transactions from one server to another are encrypted from end to end.
Privacy
CocoSig prioritizes the privacy of its customers. The company ensures that the customer's data is protected, and well-handled. To further stick to the industry regulations and standards, CocoSign gets audited independently by third-party auditors. Customers can access these audit reports upon request, which reaffirms the stand of the company towards transparency.
You can sign up for a free trial and then upgrade when your demand grows.
2. DocuSign
DocuSign is another reputed signature maker that is part of a larger office suite. This office suite includes DocuSign Agreement Cloud and DocuSign eSignature. Its major offering is to allow users to create and sign documents electronically on any device, from anywhere in the world.
Pros
You can create documents from scratch by using a simple drag-and-drop interface.

Once the document is ready, you can use a system-generated signature or draw a signature on the device.

The documents can be sent to anyone on their email address.

The DocuSign dashboard allows you to see the status of the documents and accept or reject them after verification.
Cons
Free version comes with limited features

Premium version is expensive

Customer support is non-existent
All in all, if you compare Docusign with CocoSign, you will find that CocoSign provides the best services. CocoSign is safer and has improved security features. Also, the pricing is flexible, which suits small and mid-sized businesses perfectly.
4. MyLiveSignature
MyLiveSignature is a collaboration tool for creating, distributing, and collaborating on various tasks digitally. It specializes in Wealth Management and works closely with multiple financial institutions to make the platform compliant, secure, and auditable. Law firms, corporate banking institutions, and large enterprises are part of its clientele. But it also happens to serve small businesses.
You can send the documents to your employees or anyone outside your company to sign. MyLiveSignature's in-built signature creator will offer you to draw your signature, which you can then use to sign the documents. You can track the process end-to-end.
Besides document signing, MyLiveSignature offers secure messaging, visual annotations, task management, screen sharing, cloud storage, transaction management, and video meeting tools.
The company allows you to white-label all the tools it offers under your brand name. But you would need to pay high fees for this.
5. Eversign
Eversign is a dedicated online signature maker that allows both small and large companies to get the signatures done over the internet. It is mainly focused on the cloud environment. As stated by the company, it dedicates itself in building the most secure and well-monitored platform.
To start using Eversign, you just need to upload the documents and send them to all the people who should sign on it. Each signee will receive a link to the document where they can sign using their phone. The document is then stored on the Eversign cloud for later use.
Eversign allows you to either create your own signature by typing your name, drawing your signature, or uploading a PDF signature. The documents thus created are legally-binding.
6. Docsketch
Do you always have to deal with sales agreements? Then Docsketch might be a better solution for you. It allows you to create sales agreements on the go and send it out for signature. You can also have it signed in-person on a mobile device or tablet.
The tool notifies you every time the documents are signed. You can also track the entire process from end-to-end. So you can say Docsketch is a sales automation platform. To further simplify your task, you can use ready-to-use sales documents.
For signing the agreements or documents, you can either draw your sign or use its in-built signature generator. The generator will create 4-5 different versions of your signature. Docsketch is fully compliant with the US and international e-signature laws.
7. Signature Maker
Signature Maker is another easy-to-use online signature generator to sign documents electronically. It follows the Upload-sign-send ideology for signing the documents.
To generate your signature, you can either type your name or draw the signature using a touchscreen device. Besides that, an important feature Signature Maker integrates with many third-party apps like Google Apps and Zapier.
You can get an add-on version for Signature Maker on G Suite. So if you're working closely with Gmail and Google Cloud along with your team members, then you can add the e-signing features of Signature Maker to your Gmail accounts and save as Google doc.
If you have an in-house software of your own, then you can do custom integration using the Signature Maker API.
8. Smallpdf
Smallpdf is a document portal that lets you store and work on documents online. You can invite other members to work on it and sign it if needed. You can store as many files as you want, depending on the plan you choose.
With Smallpdf, you don't have to work on emails anymore. Thus, it eliminates the risk of data breaches and cyber-attacks.
For creating forms, you can use ready-to-use templates suited for a wide range of industries, including finance, real estate, education, accounting, and human resources. With its in-built signature creation tool, you can design and create your e-signature in seconds.
9. ApproveMe
ApproveMe allows you to get documents signed with a click of a button. The company puts ownership and transparency above anything else. ApproveMe is an independent e-Signature provider and gives you access to the complete legality and validation that goes on behind the scene.
Also, the platform is highly secure, and the transactions are encrypted. Thus, if your business is engaged in a highly-regulated environment like law, healthcare, or banking, then you'll find ApproveMe to be an ideal choice.
Also, it is industry-focused. For real estate agents, it offers zipLogix Digital Ink. For healthcare and pharmacies, it offers PharmaDoX. Its generic online digital signing product, MyDoX, is a good fit for any business of any size.
10. Online Signature
Finally, we have Online Signature on this best signature generator list. It is a clickwrap agreement management software and facilitates the creation and designing of legally-binding agreements in minutes. With Online Signature, you (or the signee) don't have to sign on the documents. Instead, you're served with a checkbox that you need to click on. By clicking on it, you agree that you've signed the documents.
Online Signature will update a system-generated signature for you. This is great if you want an easy-to-use digital signing solution and don't want to draw an e-signature at your end. This way of signing a document is recognized by ESIGN Act and UETA Act.
Conclusion
Most of the tools listed here offer a free trial of 7 or 30 days. We recommend you to take the free trial and review the services. If it's a good fit for your business, you can sign up for a paid plan.