Google has a knack for releasing messaging platforms that are either redundant or useless. Just take a look at Allo and Duo, which will be replacing the consumer version of Hangouts at some point in time.
However, in an effort to make everyone even more confused, Google has announced the enterprise solutions for Hangouts it will be offering. Hangouts will be spilt into 2 entities: Hangouts Meet and Hangouts Chat.
Hangouts Meet
---
Hangouts Meet is Google's new take on video calls for the enterprise sector. This new platform has been live for a few weeks, but is now making its way to more G Suite users, and allows for up to 30 members in the video call at one time, regardless of whether you're on a computer or your mobile device.
Hangouts Meet is one of the most frictionless video conferencing systems we've experienced.
Jerome Knapp, Systems Admin at Braintree
As you would expect, there are some deep G Suite integrations that make it easy to add meetings to everyone's Google Calendar. Once the meeting is ready, you'll be able to join from Calendar, email, or "ad-hoc share".
The Calendar event will also include all the information you need to know regarding the meeting, so you're not left in the dark. Plus, if you need to actually call into the meeting, G Suite Enterprise subscribers will be provided with a "dedicated dial-in phone number". Think of this as an alternative to GoTo Meeting.
Hangouts Meet is available for G Suite subscribers to begin using today, and you can check out more on it by hitting the button below.
Hangouts Meet
Hangouts Chat
---
Here we go boys and girls, Hangouts Chat will be the latest and greatest for those taking advantage of G Suite for Enterprise. We're just kidding. Chat is just another attempt from Google to figure out how to get everyone on the same page when it comes to messaging.
This is clearly different than the Hangouts that we've been using for years, as it's designed for businesses and not for regular chats. The service features a mobile app and a web client, which allows you keep track of the conversation regardless of which platform you're using.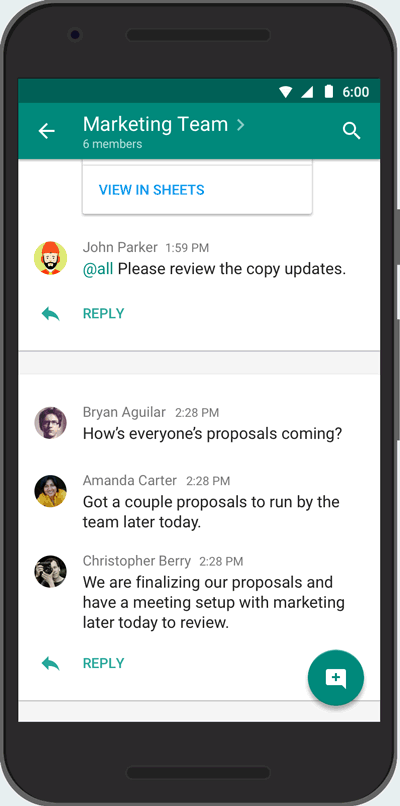 In addition to integrating the G Suite of applications, Google is also integrating other extensions. These extensions include integration with Asana, Zendesk, ProsperWorks, and Box. This list is far from what's possible with Slack, but since Chat is a new product, we're likely to see more extensions in the future.
Finally, Google has implemented a new bot into Chat. The @Meet bot will look at everyone's Calendar and then find the best time for a meeting. There are also other bots from the likes of Asana which will allow you to either add tasks or participants in a specific project.
All in all, Google has a lot of work to do if it wants to catch up to Slack, but this could be the solution that G Suite users have been looking for. Especially if your company already paid Google the boat-load of money it costs to integrate its special services.
Unlike Meet, Hangouts Chat is not available for everyone just yet. However, you can hit the button below to apply for the Early Adopted Program, provided that you are a current G Suite customer.
Hangouts Chat
Conclusion
---
I don't know about you, but this seems like a half-hearted attempt at competing with the likes of Slack. However, with Slack's recent integration with video calls, we're still unsure why Google decided to split chat and video calls up.
The other problem here is that Google still hasn't stated what will be happening to the current version of Hangouts that we continue to use. Hopefully this will be cleared up in the coming weeks or months. Well, hopefully Google just leaves it alone and lets us continue to use it, or integrate some of our favorite features (SMS) into Allo.