After rumors coming through left and right, Google finally took the wraps off of the first smartwatches to don Android Wear 2.0. The LG Watch Style and LG Watch Sport have been unveiled and bring a classic look to your wrist, while offering the latest that Android Wear has to offer.
LG Watch Sport
---
The LG Watch Sport is the big brother of the two new smartwatches, as it features many add-ons that you would expect from a smartwatch. Other than being powered by Android Wear 2.0, the Watch Sport features a 1.38-inch POLED display, with a resolution of 480 x 480.
Powering the Watch Sport is Qualcomm's Snapdragon Wear 2100 processor, along with 768MB of RAM. LG also added 4GB of storage to the smartwatch, if you want to be able to keep music directly on your wrist.
In order to take advantage of everything this smartwatch has to offer, you'll be happy to know that you can leave your smartphone at home as the Watch Sport also includes cellular radios, and GPS.
Other features that are packed into the Watch Sport include an NFC chip for Android Pay, as well as a heart rate sensor. If you're worried about how the Watch Sport will withstand the elements, then you'll be happy to know that this smartwatch includes an IP68 certification.
Finally, the Watch Sport features a 430mAh battery, which can be recharged thanks to wireless charging. The new smartwatch is also available in 2 different colors: Titanium and Dark Blue.
LG Watch Style
---
The LG Watch Style is the little brother of the group, with a display that measures in at 1.2-inches with a resolution of 360×360. The Watch Style includes the same Snapdragon 2100 Wear processor and 4GB of storage, but LG reigned back the RAM a bit (512MB).
Considering that the Watch Sport is the "flagship" of these two new smartwatches, there aren't as many extra features packed into here. However, the Watch Style does include Wi-Fi, Bluetooth, an accelerometer, gyroscope, and ambient light sensor.
As for the battery, the Watch Style includes a smaller 240mAh battery which can also be recharged wirelessly. Finally, the Watch Style will also be able to withstand some of the elements, as it is IP67 certified.
Android Wear 2.0
---
The latest version of Android Wear has been delayed for sometime after being shown off at Google I/O 2016. Today marks the first day that you can download the new software onto your compatible smartwatch. As for the features that are included, we are looking at an array of new capabilities.
The biggest new feature is the addition of Google Assistant. You will be able to quickly ask Assistant to perform any tasks without ever taking out your phone. In order to activate Assistant, you can either hold down the power button on your watch or say "OK Google".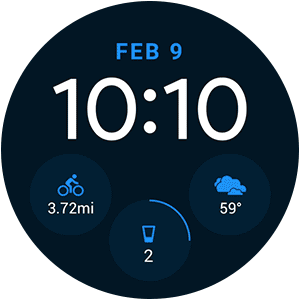 Another big feature of Android Wear 2.0 is the inclusion of new watch faces. These watch faces are interactive and can be personalized to your liking, depending on what time of the day it is. All you'll need to do, is switch to the watch face that best fits the activity that you're performing.
Google Fit has also seen an upgrade as you can now keep track of your pace, distance, calories burned or heart rate (if you have a compatible smartwatch). These metrics can be measured whether you're walking, running or cycling. You'll be able to even measure your various reps that are being taken in the gym, including weight-lifting, push-ups, sit-ups, or squats.
Perhaps the other biggest feature coming to Android Wear 2.0 smartwatches is the addition of the Play Store onto your wrist. You will be able to download an array of applications to your smartwatch, including Uber, Android Pay, Runkeeper, and Google Messenger.
Pricing & Availability
---
The LG Watch Sport will be available at numerous outlets, including AT&T, Verizon, and the Google Store. The Watch Style will only be available through Best Buy or the Google Store for the time being.
Pricing for the LG Watch Sport starts at $379.99, but Verizon is currently offering the smartwatch for $329.99 when purchasing through a 2-year contract. As for AT&T, the Watch Sport will be available for $49.99 with a 2-year agreement with purchase of either the LG G5 or LG V20.
AT&T is also offering the Watch Sport for $17.50 per month for 20 months through the carrier's installment plan. The LG Watch Style is priced at a respectable $249.99, if you're willing to forego any of the other features packed into the Watch Sport.
Both smartwatches will go on sale in the United States starting on February 10th.