Last month, we saw the release of a modified Pixel Launcher APK which provided Google's stock launcher on any of your compatible devices. Today, there seems to be another version of the Pixel Launcher making its rounds, thanks again to /u/deletescape from over at the XDA Developers Forum.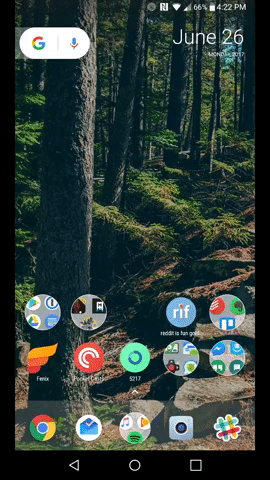 What separates this new launcher is the customizable options that are packed under the hood, without needing to worry about using something like Nova or Action Launcher. This launcher, named Lawnchair doesn't only allow for you to customize things like icon size and custom icon packs but also features an integrated Google Now page which is accessible from the homescreen.
Earlier this month, a new app was released by the folks behind Nova Launcher which achieves the same idea, allowing you to access Google Now from your homescreen. However, considering the fact that us Android fans love the ability to pick and choose, I decided to give Lawnchair a spin.
Installing the APK was extremely simple, as you only need to download the file from GitHub, which you can get via the button at the bottom. After downloaded, you'll need to ensure that you can actually install the launcher, which can be done by following the steps here:
Navigate to Settings
Select Security
Toggle 'Unknown Sources'
Once that has been completed, you can install Lawnchair and start exploring the different aspects. But as a quick note, you'll want to make sure that you enable Now, you won't be able to import your current setup from Nova over to Lawnchair, so you'll be starting with a clean slate. This could be a good time to clean through apps that you haven't been using or no longer need on your device.
Accessing the settings of this launcher is extremely easy, as you'll only need to long-press on the homescreen and tap the "Settings" gear icon. From there you'll be presented with a few sections with customizable options under each section. Here's a breakdown of what you can customize:
UI

Icon Pack
Tray uses wallpaper colors (toggle)
Color of Icon Labels on Homescreen
Color Variation of Icon Labels on Homescreen
All Apps Opacity
Number of columns
Number of rows
Number of icons in tray
Icon Scale
Icon Text Scale

Pixel Style

Show Pixel Top Bar (toggle)
Use Wide Searchbar (toggle)
Show Voice Search Button (toggle)
Use Pixel Icons (shows circular icon when possible)

Behavior

Pinch to Overview
Pulldown to Search
Light StatusBar
Enable Haptic Feedback
Save Scrolled State
Home Button Opens App Drawer
Show Hidden Apps

About
As you can see, there are a slew of different options for you to tinker with, providing a stock Android feel without needing to worry about setting up things like you do in Nova or Action Launcher. Plus, Lawnchair automatically enables the Google Now page on your homescreen without needing to install another application to work in the background.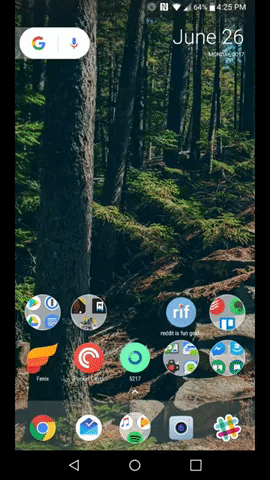 In my brief time with Lawnchair, everything seems to work as advertised and I have yet to run into any major issues. There are no issues when it comes to lag when swiping through to my Google Now page, while also giving me all of the major customization options that I look for with a launcher.
If you want to give Lawnchair a test run, hit the button below to download it and let us know how it's running for you. If you run into any problems, be sure to sound off in the comments below and let us know
Download Lawnchair APK